Spit, shine, compute: COVID-19 testing for the masses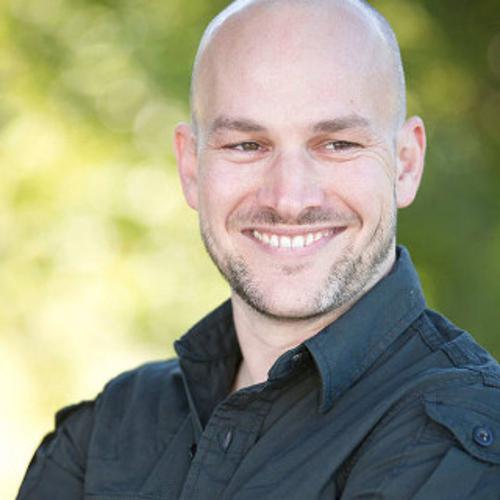 Maxwell
💧 Spit 💡 Shine 💻Compute - Check out our article on the fascinating 5 minute, €15 COVID-19 testing solution in development by Copenhagen Nanosystems!
---
Broader and better COVID-19 testing? Hold my beer...
In late March I remember seeing the birth of this solution in my LinkedIn feed. Copenhagen Nanosystems (CPHNANO) founder and CEO, Emil Højlund-Nielsen asked a few questions in the comments of a post about the lack of testing in the US. His questions were about sample requirements and cost, and then he had an ultimate engineer "Hold my beer…" moment as he heads off with his team to come up with a solution.
This solution uses saliva for simple and safe testing that can repurpose much of the existing equipment across the globe. Their COVID-19 diagnostic can be done for as little as €15 (or $16.50) per test, and the whole process takes less than 5 minutes to determine if even minimal traces of the virus are present in a person.
COVID-19 testing development
A little over a month later (we're still holding your beer Emil) and CPHNANO now aims to launch its impressive and innovative products globally. CPHNANO has been busy at their headquarters in Lyngby, Denmark, a little tech mecca just north of Copenhagen that is home to Denmark's Technical University, Microsoft's Quantum Materials Laboratory, Novozymes, Haldor Topsoe, and even Humanitrack.
Emil and his team have run a successful first round of funding, including previous and current crowdfunding campaigns, while continuing their development.
"We are working on a cuvette product for COVID-19 testing, that can be used in all spectrophotometers across the globe," says Arpita De, PhD and senior scientist at CPHNANO.
The product, NanoCuvette™ SARS-CoV-2, is part of a testing platform that can turn spectrophotometers usually used for food testing, drinking-water quality, production quality control, research and education in schools, into mobile testing stations for digital diagnostics – adding critical extra capacity to any national effort right now against COVID-19.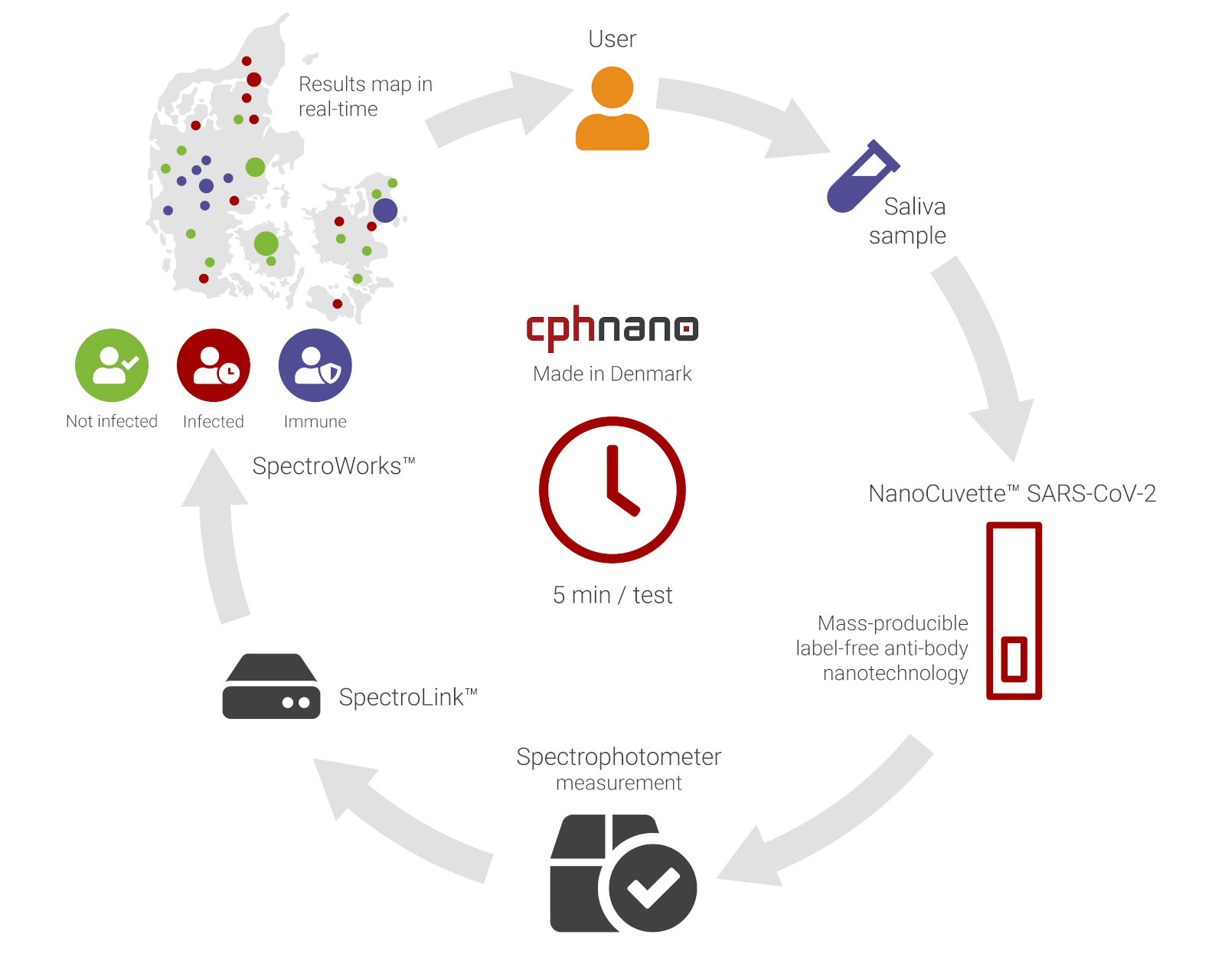 Concept
Responding to the global need for tackling the coronavirus pandemic, scientists at CPHNANO are developing a new rapid, non-invasive optical biosensor demonstrator that will detect COVID-19 in humans as soon as it is present in the body. This is critical in helping to control the virus from being spread by carriers who do not exhibit typical symptoms or are asymptomatic.
Originally developed to detect bacteria in drinking water, the new instrument uses photonics to detect infections in patients with trace amounts of the virus.
With the ability to diagnose with high specificity and sensitivity from a low concentration sample, the sensor is much more reliable than the COVID-19 rapid-test 'finger-prick' kit, which detects if a person has previously been infected with the virus and has since recovered.
The new point-of-care detector inside the cuvette examines antigens in the patients' saliva using nanophotonic biosensors with surface functionalized antibodies at low concentrations.
Once a sample is prepared and is in place, the device confirms a positive or negative for COVID-19. Allowing for preparation time and analysis, a result - from sample to diagnosis - may take up to 5 minutes.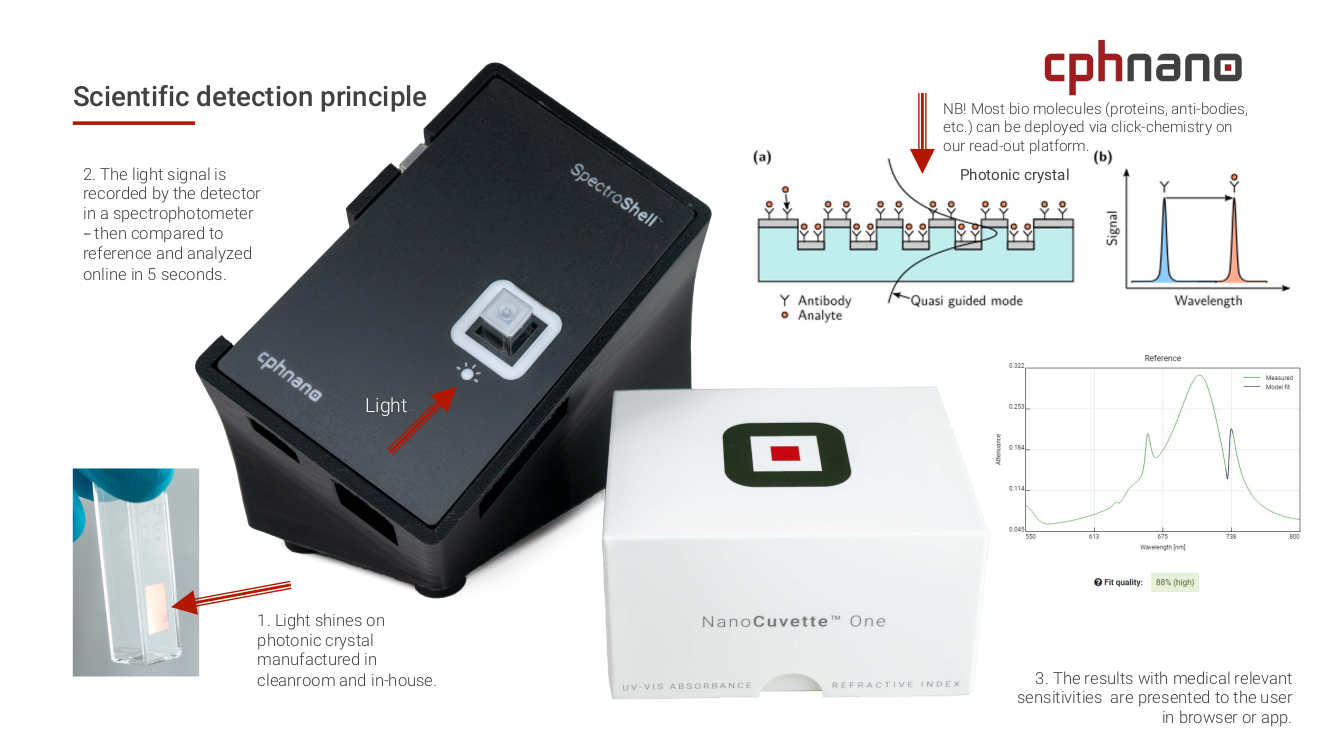 Label-free technology
Label-free means that you don't have to tag your molecule of interest to observe it. You detect the binding to your biosensor because of its linking properties with the biosensor itself. The detector works by looking at the 'binding' of the antigen molecules to the antibodies on the sensor surface - producing a new signal when these are present.
CPHNANO uses a nanophotonic biosensor, a sensitive, label-free detection technology for spectrophotometers, to identify antigens specific for pathogens of interest. The basic technology is already on the market, sold as NanoCuvette™ One and is utilized in several different industries across 7 countries.
Since the bioreceptors on the sensor surface are specifically 'tuned' to a particular antigen, only the molecules related to SARS-CoV-2 are captured along the surface.
Light travelling in the sensor generates an evanescent field of a few nanometers over the sensor surface. Here, receptors (like antibodies or DNA strands) can recognize the antigens.
This recognition event produces a change in the refractive index of the medium, causing the light to slightly change its direction of travel.
This change can be measured and determined precisely against a set of existing values – and gives instant diagnosis for COVID-19.
The patented spectrophotometry technology is a unique game changer for biosensing. Using photonic crystals and a white light beam at the visible wavelength directed at the sensing area, followed by cloud computing to decouple the information into different modes which normally only a laser can detect.
The light interacts with analytes and during their travel, the spectrum is recorded. The signal is collected with a photodetector, processed by electronics, and uploaded to the cloud in real time.
The nanophotonic biosensor can examine saliva for rapid diagnostics and screening. It looks directly at the human samples without the need for PCR or other time-consuming methods currently available.
"Photonics is renowned for its rapid, stand-off, and clean detection capabilities, so it made perfect sense to develop a mass-producible product that exploits capabilities of the spectrophotometer amidst this terrible pandemic," says Emil.
Global potential of testing using spectrophotometry
With tens of thousands of deaths worldwide, we are in urgent need of a rapid new testing kit that is accurate, highly sensitive, non-invasive and cheap to produce. The CPHNANO solution is running on readily available spectrophotometers that are already deployed across the world, which can be quickly converted to testing for COVID-19.
The requirement for a spectrophotometer being used is that it must record a spectrum from 550-800 nm. CPHNANO has also developed the SpectroShell™ for around $800 that is connected to the spectrophotometer, but say that a commercial 3D-printed holder for the cuvettes could be developed to bring the cost of this solution even lower.
The "best case" table below shows the potential of being able to test entire populations using the CPHNANO solution.

*Spectrophotometer market data from World Bank
Next steps
Additional funding, clinical testing, regulatory work, and FDA approval are all the main next steps before heading into full production of the NanoCuvette™ SARS-CoV-2 testing solution. Humanitrack and our Epidemic Response Quest community will be following its development and progress with excitement as we monitor and make sense of the global state of testing solutions.
Emil, here's a fresh beer 🍺….you deserve it!
If you want some next steps to be a part of this...
About Copenhagen Nanosystems: Simplicity and accessibility for a new generation of analysis and diagnostics
Founded in 2015 as a spinout from Prof. A. Kristensen's group at the former DTU Nanotech, Copenhagen Nanosystems ApS (CPHNANO) is a labtech company that develops cuvettes which expand the functionality of existing simple laboratory equipment via nanotechnology and cloud computing. Today, CPHNANO's customers come from life sciences, advanced technologies and research industries.
"We believe that laboratory analysis should be a simple and accessible global commodity for everyone," says Emil Højlund-Nielsen, CEO at CPHNANO.
The unique quality about CPHNANO is that its platform is the first of its kind enabling customers to develop their label-free or light scattering methods with simple spectrophotometers. Their technology is very similar to surface plasmon resonance (SPR) or biolayer interferometry (BLI) and based on optical photonic crystal technology. The key combination of using special patented cuvettes and configurable cloud-based software allows us to collect and process huge amounts of data efficiently and accurately in 3 seconds. The result is faster and more reliable for customers without upfront investments.
---