Roadmap
Events & Milestones:
February 3, 2021: Pre-seed funding from any private investor in Denmark reached minimum goal 80.000!!!
January 15 - February 5, 2021: First wave of usability testing
June 1, 2021 - Humanitrack at "Impact the future" https://impactthefuture.co/
Oct 1, 2021 - Humanitrack IVS coverted to Humanitrack ApS (the IVS type companies in Denmark must do this)

Humanitrack's internal roadmap in 2021 with focus on:
-Funding (pre-seed, crowdlending, business angels)
-Humanitrack.org user-testing and refinement of user experience/journey and platform
-Employer-Supported Volunteering SaaS market validation in Denmark
-First revenue stream from Employer-Supported Volunteering around July 2021 (so we can grow and provide a better experience and more impact!)
-Preparing for new Quests like "Synthetic Fuels (Power2X)" and "Cancer Treatment" later in 2021

Click below roadmap image to zoom in!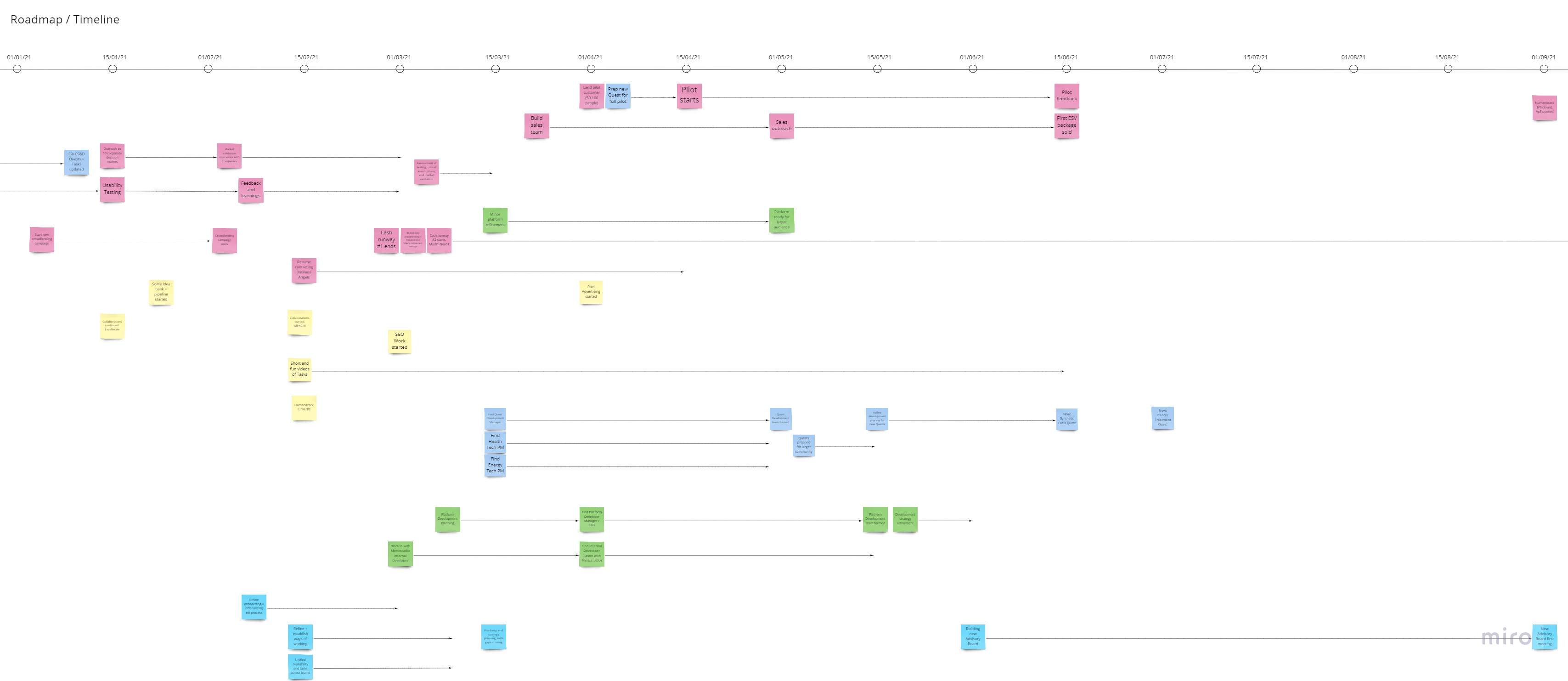 Reflections from our founder Maxwell Hartman, February 5th, 2021:
My parents were both entrepreneurs owning their own companies and even had their own home construction company "Cobblestone Homes" together back in the 80's.

Speaking of home building...we are in a sense constructing Humanitrack into this large home for humanity's STEM communities and content, complete with garage for pre-projecting and innovation. Since breaking ground 3 years ago , the foundations and framework of the home are actually still being laid in this order of events:

1. The platform humanitrack.org is an established framework needing refinement for all of our residents, guests and their experiences.

2. We've tested out the blueprints to the Quest Development wing of the house via the Epidemic Response, Cancer Screening & Diagnostics, and Fuel Cells Quests and are soon ready to start construction.

3. Our Marketing Communications wing is continuing to refine itself in preparation for living in our neighborhood and bringing in many more residents, guests, and businesses.

4. The Business Development floor is newly established and helping us continue to define/refine or start construction on the other sections of the home...as well as making sure we have the procedures and resources for accelerating construction and many other home improvements.

5. The attention has now turned to the blueprints for our Platform Development wing as we are hearing from our guests (usability testers) that their experience in our home is not quite the one we hoped they would have. But their feedback is key for improving our home and giving it the life and resources it needs.

So in summary:
We're getting early feedback on the usability testing and are already identifying some roadblocks in the current user journey and experience
This feedback is making it clear we need a UX (user experience) lead (as a start to our Platform Development team) and improvements to how we do the usability testing and agile development process
It is also clear we need to get moving on the Quest Development as this feeds into the user experience for volunteers and can be run in parallel without disrupting our other teams